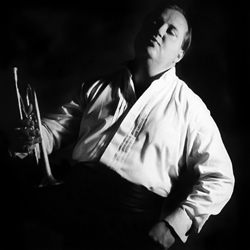 "The work of Ed Carroll has been seminal to the creation of a new generation of adventurous young trumpet players"
– John Wallace in his 2012 book The Trumpet (Yale University Press)

"A singer who happens to play the trumpet"
– Sir Simon Rattle
Edward Carroll's career has taken so many abrupt twists and turns since he summoned forth his first radiantly unsophisticated blast on the cornet at age 6 that we might as well view it as an M. C. Escher drawing. He was greatly honored to play his trumpet at the funeral of the great Dutch/American abstract expressionist painter Willem de Kooning, who once attended one of Ed's concerts in New York City and remarked to his companion "when I die, that's who I want to send me off". In addition to his life as a trumpeter, Ed has enjoyed an active musical life as a conductor, teacher, student, iconoclast, improviser, director, new music enthusiast, symphony musician, soloist, chamber musician, programmer, writer, reader, deep listener, father and husband. He intended differently but was easily distracted by new challenges. He now feels that he's finally settled into a second half of a career, focusing on teaching and occasionally conducting, that fits him like a well-worn pair of shoes and he doubts that there will be a third half.
Ed is well known in the world for getting dangerously overexcited about every musical challenge that is put in front of him. Sometimes he really succeeds (you can read about it here) and sometimes he fails (rare moments best kept private), but each musical moment that Ed has involved himself in has reflected his total commitment and zeal. He likes to build things from the ground up and has learned, over time, to play well with others.
Ed crosses musical generations, with one foot planted in the traditions of the past while the other is carefully searching for something new to explore. Once a devotee of Adolph Herseth and Maurice André, he now finds equal satisfaction in the work of Markus Stockhausen, Reinhold Friedrich, Gabriele Cassone, and Håkan Hardenberger. His best friends in music remain colleagues John Wallace, Mark Gould, Tom Stevens, Steve Burns, Tom Dambly, and Bob Brookmeyer. His listening is currently trending towards the compositions of Mark-Anthony Turnage, Tomas Adès, and the songs of Gustav Mahler (for whom his basset hound, Gustav Mahler, der Hund von der Erde, is named). His favorite band might be Ensemble Modern and his favorite musical people, most transparently, are his many students.
Ed chronologically lists Renold Schilke, John Lindenau, Vincent Cichowicz, William Vacchiano, and Gerard Schwarz as his teachers, but has learned as much (or perhaps more) by sharing stages with conductors Leonard Bernstein, Pierre Boulez, Valery Gergiev, Bernard Haitink, Simon Rattle, Esa-Pekka Salonen (and many others), and while talking shop with composers. He has also learned a great deal from his wife Jacqueline Jacobus, but would never admit to it in public.