Perhaps Ed's most satisfying moment as a teacher came with a phone call from the personnel manager of the Los Angeles Philharmonic asking for him to recommend two of his students to join the orchestra as first and second trumpets for a series of Green Umbrella (contemporary music) concerts, due to an excellent but over-extended trumpet section, the difficulty of preparing the modern parts being performed with short notice, and limited rehearsal time. His kids nailed it.
Edward Carroll's students and mentees have been members of such diverse ensembles as the Philadelphia Orchestra, the Gewandhaus Orchestra, the BBC Philharmonic, the Thunder Bay Symphony Orchestra, the San Francisco Opera Orchestra, New World Symphony, the Korean Broadcasting (KBS) Symphony Orchestra, and the Meridian Arts Ensemble. They have also been granted fellowships at the Aspen Music Festival, the Lucerne Festival Academy, the Canadian Youth Orchestra, the Ensemble Modern Academie, and performed with the Los Angeles Philharmonic, the Los Angeles Opera, the Gustav Mahler Chamber Orchestra, the Montreal Symphony, Earth, Wind, and Fire, Kanye West, and the Grande Mothers of Invention.
Associate Professor of Trumpet
Schulich School of Music, McGill University

The Princeton Review has ranked the Schulich School as one of the ten best music schools in the world. Members of Edward Carroll's trumpet studio at McGill are currently pursuing the degrees of B.Mus, M.Mus, and D.Mus. while enjoying the many cultural benefits of living in Montreal, one of North America's most eclectic cities. It's nowhere like everywhere else. For further information, including admissions and information for prospective students, please visit http://www.mcgill.ca/music
Amy Horvey, a D.Mus. candidate in Edward Carroll's class, was recently granted the Richard Li Young Artist Award for 2008 by the National Arts Centre, Ottawa. Click here for an article about Amy's award.
For a performance of Yan Maresz' Metallics – winner of the 2007 Audio Engineering Society Surround Sound Classical Society – by EC's former McGill student Matthew Brown (B.Mus. 2007), click here
Coordinator of Brass Studies
California Institute of the Arts (CalArts)

Edward Carroll established the New Millennium Brass Program in 2001 at this hotbed for new and experimental music. Members of his trumpet studio at CalArts are currently pursuing the degrees of BFA and MFA. He also teaches Writing for Brass, Brass Workshop, and conducts the brass ensemble. For further information, including admissions and information for prospective students, please visit http://www.calarts.edu/music
For a performance of Conlon Nancarrow's Piano Study No. 7 by EC's former CalArts student Joseph Motter (BFA in progress, 2004 – 2006), click here
Senior Lecturer
Dartmouth College
Members of Edward Carroll's trumpet studio at Dartmouth are currently pursuing BA degrees and majoring in such subjects as economics, aesthetics, cognitive science, and Russian language. For further information, please visit http://www.dartmouth.edu/~music/
Director
The Center for Advanced Musical Studies

The Chosen Vale International Trumpet Seminar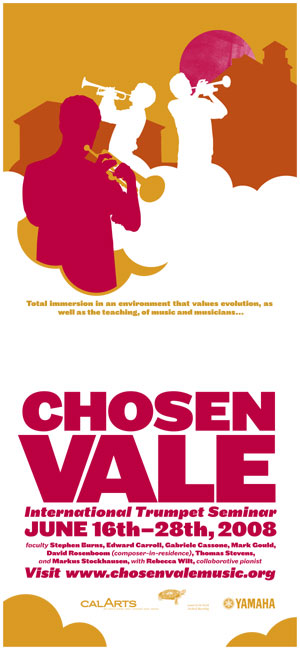 Forty participants are chosen annually to work with an internationally renowned faculty each summer at this non-profit institute, located in Enfield, New Hampshire, that is dedicated to advancing the art of trumpet playing. Chosen Vale is, without question, an absolutely unique experience. The level of playing is high, the faculty outstanding, and everyone lives, eats, and works together at a fabulous Shaker site. For further information, please visit http://www.chosenvalemusic.org
Edward Carroll occasionally hosts trumpeters for week-long study at his home in Hanover, New Hampshire. For further information, please contact Ed at edward.carroll@dartmouth.edu