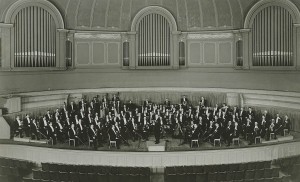 Teaching music in its many forms poses more problems than simply teaching music. Inevitably, I have to confront the root issue for anyone who takes seriously the implications of trumpet in the large-ensemble form in culture. I believe that the symphony orchestra is different in kind from simply a large collection of players playing together. It has acquired that difference in meaning over time, so that by now we can say it has been "impregnated" with a special significance, something like a cross between being a distinct medium and—transposing a term from Asian culture—being a "national treasure." We can have several attitudes towards this transformation of large ensemble into the Symphony Orchestra.
I recently told a colleague at CalArts that I was obsessed with the idea of the orchestra, though I hadn't sounded a note in one since leaving the Rotterdam Philharmonic in 1992. She said that to her the orchestra represented the ideals of the Enlightenment and of Beethoven's part in that. Something about freedom she said, a glorious, even overwhelming sound of humankind.
The orchestra's ideal status as the expression of individuals merged into a collectivity-in-unity, singing some part of ourselves back to us in an awe-inspiring, expressive language, is not something talked about in my current musical circles. The Symphony Orchestra is either shunned as an elite item purposefully kept out of the hands of the children of the avant-garde, or it is grimly and slavishly courted as a source of commissions, royalties, and publications. Few composers I know take sustenance in the sheer overwhelming power of its sound, of the monumentality of ninety-to-a-hundred-ten human beings with one leader, doing together something of such precision and difficulty that really has no other exemplar in Western culture.
Most of us, on the other hand, have been or know orchestral players who gripe and bitterly complain either about their conductor(s), their terms of employment, or the boredom of playing what they have to play every day, and when pushed to articulate more, will say that the orchestral life is a crass negation of the very ideals that brought them into music in the first place. Of course I'm speaking of North Americans now, but the strange and contradictory place of the orchestra in contemporary life is a worldwide urban phenomenon. It is a grand, grandiose, extremely expensive, elitist, and European institution (even when found in Asia), an unlikely institution to survive in postmodern global capitalism where digital information is primary, and inefficient skilled manual labor is some kind of atavistic holdover of pre-digital civilizations. Yet no country espousing Western ideals can do without a nice handful of these relics.
And if you ask me, the orchestral sound is one of the most thrilling things on earth. Yet there is something profoundly wrong with the deep structure of the orchestra and this is connected to the way it fails to unite the past of its tradition and the present-day state of musical creativity. One cause is the Modernist attack on the past, which included an attack on magisterial largeness. In the early 20th-century, Schoenberg, in his Chamber Symphony No.1, paired down the orchestra to a string quintet and single winds. This kind of ensemble of about fifteen musicians fulfilled a minimum harmonic and contrapuntal requirement for his, now, post-romantic music and would become one kind of model for the "radio orchestra"—sound engineers could always enrich the sound if necessary! But the large symphony orchestra survived this attempt at streamlining, and full-sized radio orchestras still exist and thrive in Europe (though they were summarily dismissed from American's totally commercialized radio decades ago and Canada just lost her last recently). Still, composers often felt that the symphony orchestra was the not the ideal medium for their ideas, especially neoclassic ones, or post-Webern, pointillist ones.
I'm conflicted, obviously, within this subject.